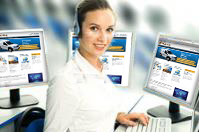 What makes "Southern Shipping Solutions, LLC" different from anyone else?
We value our relationships and seek partnerships with the companies we service. We learn their vendors and customers and put them in their address books always striving for maximum efficiency. We inquire about their business and work to support their success. We develop personal relationships and care about our business family.
Mission Statement
Southern Shipping Solutions, LLC is committed to partner with both our customers and our carriers to ensure long term profitability for all.
Service providers will be respected and valued equally. Respect will be given to their accounts and additional business opportunities offered with our partnerships.
We promise companies who decide to let us ship for them that we will work on their behalf to make shipping easier. We promise choices in their service providers, quality in their service and all of this at exceptional values. Our relationships will change and evolve to add carriers and services as needed to strengthen our partnerships and ensure service needed for long term profitability.