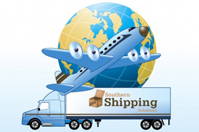 Please consider us for all your shipping needs.
All of our service providers at Southern Shipping Solutions are
passionate about serving our customers and we hope you will let
us work for you. We can create an account that allows you to log in,
rate your own shipments, create the bill of lading and send the
electronic data transmission to the carrier to schedule the pickup or
we can handle all of it for you. If you prefer to email or call us, we will
respond quickly with your rate, send your bill of lading and ensure
your carrier picks up your shipment. We use DHL for small international shipments and manage large international shipments with UPS Supply
Chain and other industry leaders. Major carriers nation wide provide
great 1 and 2 day service for less that truckload shipments. Our full
truckload service providers have tracking from point of pickup to delivery.
Our efforts will allow you to focus on what you do best – manage your
business. The exceptional value we bring allows you to control your cost
and ensure you are billed what you are quoted.
We provide quotes.
Prepare your Bill of Lading.
Schedule your carriers to arrive when they are suppose to.
Talk with your customers and coordinate deliveries.
Work with vendors for inbound shipments.
All at great rates. That is just the bonus. We will make it easier to
ship and receive freight.